The two main sources impacting emulsions quality/stability are:
Thermal cycling
Emulsion handling
Thermal cycling
Incorrect PCR tubes used, other than the 0.2 mL Axygen MAXYmum Recovery PCR Tubes and PCR-02-L-C
PCR tubes are not fully closed
No skirt or supporting 'corner' PCR tubes used for even heat transfer
A layer of fluid above the emulsion layer after the targeted PCR (1st PCR) is indicative of a failure mode.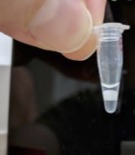 If you notice an aqueous layer on top of the emulsion layers after thermal cycling, contact support@missionbio.com.
Emulsion handling
Static electricity on tubes, gloves, or devices
Mechanical stress on tubes
Emulsion tubes are very sensitive to uneven heating, physical stress, or harsh handling. Please refer to the Tapestri Single-Cell DNA Sequencing V2 User Guide for instructions on the safe-handling of emulsions.